The Page pond, with a surface of only 3.20 ha is the smallest pond of the Foundation and it is not situated on the same watershed as the other three. However, it can be fed with overflowing water at the beginning of their discharge from the Riquet and Boufflers ponds (situated on a different watershed) through ditches that cut ridge lines and due to dykes that permit to increase the water level in ditches.
The pond is situated in the North-West part of the forest massif of the Foundation and is aimed at permitting the reproduction of amphibians present in that wooded part, since the three ponds belonging to the Foundation are at the south-east part of the forest massif.
From the remains of the wooden discharge system recovered at the bottom of the pond during the rehabilitation work, a datation then realised did permit to confirm its presence in 1521 !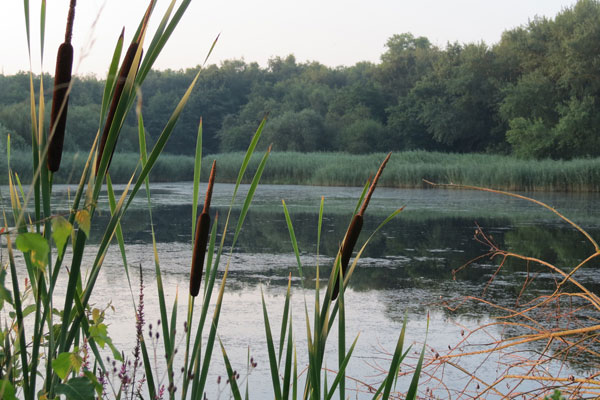 The main works done since 2004 are as follows :
Replacement of the discharge organ,

Reinforcement of the clay dyke,

Realisation of water management works (dykes, overflows),

Setting up of a boat access ramp (to facilitate water samplings for monitoring) as well as the curing of flumes and pond bottom,

Elimination of the willow wood situated and the end tail of the pond,

Refection of the main collector to optimise water impounding.
Its watershed is made up of about 40hectares of which 6 ha are shared with Riquet pond. It can be fed overflowing water from Boufflers and Riquet ponds.
Despite its modest surface, its contribution to the ecological wealth of the Foundation domain is significant (Ferruginous Duck, Dwarf Bittern, Turdoid Warble).
The Page pond is mainly used as an intermediary fish stocking place for Praillebard (reproduction and stocking pond) and as an experimental site.