Information for the Public
Dedicated to the preservation and research on the fauna and the flora, the Foundation Pierre Vérots does not have as purpose that of welcoming the public on its domain, which permits to limit disturbances.
Other types of information actions to raise public awareness are possible:
The Foundation promotes encounters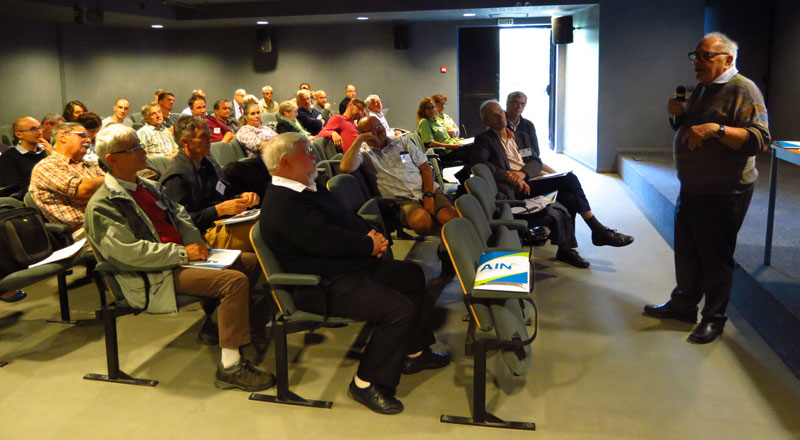 Congress on "Forest in continental wetlands", September 2017
The Foundation is a place of meetings appreciated by scientists and members of associations interested in protection of nature.
It can also serve as a venue to host workshops or presentations on themes related to its interests (ENS, NATURA 2000, fauna, flora, etc.)
It can also host, meetings with precise formation purposes (such as ONCFS training courses on identification of birds in the framework of the Water birds network).
By hosting each year young trainees or under formation contracts, the Foundation plays a pedagogical role in the field of preservation and environmental management.
General partnerships of general interest
The Foundation, together with the Fondation Nationale pour la Protection des Habitats de la Faune Sauvage and with the Saint-André-de-Corcy village, did take part to the acquisition of the neighbouring Vernange domain, that is contiguous to Praillebard, thus permitting to the public to have access to a natural environment discovery site. This partnership has been extended, in 2014, to the municipalities of Civrieux and Monthieux, in the perspective of developping pedagogical activities.
The Vernange Domain has also been labelled "Espace Naturel Sensible" by the department of the Ain and is now managed by the Departmental Federation of the Ain hunters. Read more
To permit the general public to know better its activities, the Foundation publishes regularly « La Lettre de la Fondation Pierre Vérots » that informs readers on internal events of the Foundation and on the main scientific studies.
The "Lettre" is available upon demand or can be downloaded here